Selecting photos for a custom family photo ornament can be a difficult task if you don't know what would work best in a one-inch photo bezel.  Choosing a great photo requires you to look at the photo differently than just eyeing the subject you want to be the focus of the ornament.
For a one-inch photo bezel, most everything in your photo will be cut out and lost because I can only use the head and neck area/upper torso.
Look for a pleasing background for your subject.  If it is a pet, does it look like, say, it has a toy coming out of its head?  Do you want that in your ornament?  I wouldn't.  Does it have a hand or two on its head or body?  Do you want that in your ornament?  I wouldn't.  Are you able to see the full head and neck from all sides of the photo and them not being cut off at the top or the sides of the photo?  If the answer is yes, we are off to a good start!
While I can extend and create a more pleasing background, I cannot recreate any part of the pet's or the human's anatomy.
Avoid looking at and submitting fuzzy photographs, which only get further distorted and grainy when shrunk down to one inch.  
I love this picture of a beautiful Golden retriever named Hope.   This was a picture so perfect, I literally didn't have to do anything to it but adjust the exposure and then print and cut.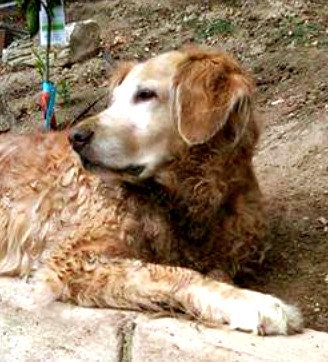 So you want to have a custom photo ornament created for a friend.  Where do you find photos you can submit to me?  If you and your friend are on Facebook, look at the pictures your friend has posted in her photos or albums on Facebook.
To grab a picture or two from Facebook, the following are the steps you take.  These instructions are for those who use a laptop or a desktop computer.  I am unable to provide instructions on how to grab and submit pictures using a smartphone or tablet.
1.  One by one, click on the photo you like.
2.  Right-click your mouse and "Save as."
3.  For "File name," name the photo, and
4.  Click "Desktop" (on the left-hand panel), then
5.  "Save."  (The photo has now been saved to your computer's desktop.)
After you have placed your order for a custom photo ornament, immediately click "Contact" and say something like, "My name is... and I just placed an order for ... ornament.  Here are the pictures for the ornament; will any of these work?"  
Then at the bottom right-hand side of the "convo" box ("convo" is Etsy-speak for an e-mail conversation), click "Attach image," find the first photo you would like to attach and upload it here from your desktop.   Follow this step for each photo you are submitting with your convo. 
What is VERY helpful information for me and what I will come back and ask you, if you have not told me, is, what is the pet's name, or who is the person in the photograph; what is their name?
Once you have attached up to three photos from which I may choose to be the best for the ornament, click the "Send" button.
Please be sure to check your Etsy account to see if I have sent you a convo asking for additional information.  I cannot start work on your ornament until I have my questions answered.  Perhaps I cannot work with any of the photos you've submitted and need another one.  
Contact me anytime before, during, or after your order has been placed.  Creating a one-of-a-kind photo keepsake involves teamwork, and I want to get started on yours as soon as I possibly can.  I cannot wait to see what we create together!